Back in 2009, when I first started posting here on An Englishman in New Jersey, I soon learned the value of establishing a blogging routine.

Including my regular Friday links list, I try to post here at least four times a week. Barring unforseen circumstances, I expect to blog about something on Mondays, Wednesdays and Saturdays. Whenever possible, I post at, or about, 11:00am (US Eastern).

Not that I don't blog on the other days of the week too, but those are usually reserved for guest posts, interviews, Puddle-related entries and news announcements etc.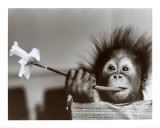 It's never fun to write a journal entry against the clock, so I make sure there are always several half-written posts and about a hundred ideas to choose from in my 'Ideas' folder, which saves me from that awful 'Oh God, what am I supposed to blog about?' feeling.
Probably the oldest journal entry in my blogging trunk is a post called 10 things my old gran taught me about blogging. I started it last summer, as a companion post to 10 things my old gran taught me about writing. I've got the '10 things' down, I just haven't fleshed it out yet.

How about you?

What's your blogging routine?